Cardinal open season emboldened by success vs. Team USA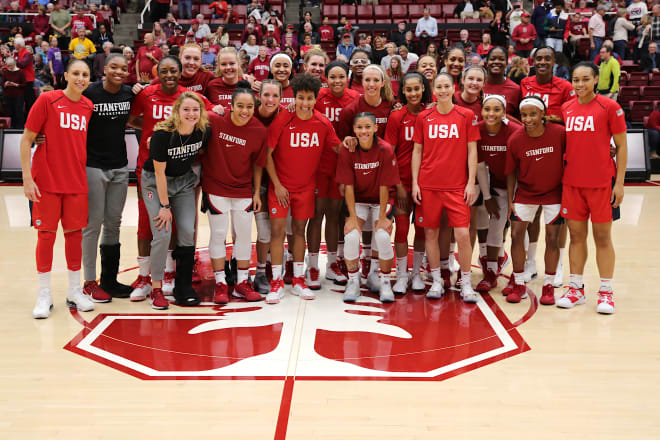 As far as launch parties go, Saturday afternoon at Maples Pavilion was a barn burner for the Stanford Cardinal. The Cardinal lost 95-80 to Team USA in front of a boisterous crowd, but no one watching could feel anything other than excitement about what could come next for the preseason No. 3 ranked Cardinal.
Stanford opens its season at home Tuesday at 7 p.m. against Eastern Washington. Not since Stanford was in the midst of its run to five straight Final Fours (2008-2012) has the excitement around the program been this palpable. Their effort Saturday was the first opportunity for many fans to see why that's the case.
Team USA opened its college tour clearly rusty -- multiple players had not played for many months and they only practiced together once beforehand -- but, that caveat aside, it's still a collection of some of the best basketball players in the world playing a college team. Respectful but not starstruck, the Cardinal competed at a high level from the jump, led for more than 16 minutes and trailed by as few as four in the fourth quarter.
What did we learn that will translate to when the games count? Cardinal Sports Report takes a look at how these Cardinal stack up on the eve of a season with national championship aspirations.
Depth of talent 
Get ready for the wave at Stanford games -- that is, the Cardinal will come at opponents in waves off the bench.
All four members of the former No. 2 overall 2019 recruiting class scored against Team USA.
Hannah Jump showed off her lightning quick release and perfect footwork on a three. Francesca Belibi and Ashten Prechtel battled against Nneka Ogwumike, Sylvia Fowles and A'ja Wilson -- showing exciting flashes of their diverse skill sets. Haley Jones scored on a breakaway, made a three and dished an assist on a drive; which is the type of do-everything game that earned the 6-1 Archbishop Mitty grad the No. 1 ranking as a recruit.
It's not just the arrival of four great freshmen that bolstered the Cardinal, either. Forward Alyssa Jerome and guard Anna Wilson have been praised for making jumps this offseason. Jerome started Saturday and led the team in scoring in its exhibition Thursday against Beijing Normal.
Center Maya Dodson was doing well before being sidelined most of the past month with an injury. Wings Lexie and Lacie Hull were already well-rounded contributors as freshmen and against Team USA their play was excellent.
Lexie in particular was a sight to behold. Her play together with DiJonai Carrington sparked the great start that built a nine-point lead for Stanford. The twins always hustle, but watching Lexie move off ball screens and create shots for herself earned her praise from Ogwumike after the game.
Stanford hopes to have Dodson back as soon as possible. Until then the improvement of Jerome is greatly appreciated because she looks like she can hold up at the four this season. Nadia Fingall doesn't look 100 percent moving with the brace on her left leg, but she did great work Saturday to create scoring opportunities that against other opposing posts would have resulted in scores.
Mama Bear and Skippy
Kiana Williams and Carrington are leaders of the team and according to ESPN they're among the top 20 players in college. They were Stanford's top scorers Saturday and they found a variety of ways to score against players who were their idols growing up.
Williams is called "Skippy" by the coaches and teammates because of her infectious joy playing the game. She is approaching the level of master when directing the offense and her confidence shooting from the perimeter and attacking the basket took the roof off Maples.
Williams struggled at times last season to create her own shot against the best competition the Cardinal faced, but that wasn't a problem Saturday. She will need to be on the court for Stanford to operate at its highest level, but she should get more rest this season because of the development of Wilson and Jones.
Carrington's diverse game has always been a strength. She's a box-score stuffer and, despite only recently returning to full-go after surgery this summer, she did a bit of everything inside and on the perimeter.
A telling sequence occurred in the second half when Carrington tried to post up Bird but Bird's quick hands knocked the ball free, causing a turnover. On the next possession Carrington went at Bird again and finished with great footwork to get around Bird for a layup. Carrington always attacks and the rest of the team feeds off that energy.
The chemistry Carrington and Williams have with each other also is a powerful strength.
Since Williams arrived at Stanford she and Carrington have been inseparable. Carrington took the lead in what they half-jokingly describe as a mother-daughter relationship and there are some mama bear characteristics in how Carrington cares for the rest of her teammates.
Confidence is soaring high
This team believes it can be great and that belief is backed up by considerable talent. Head coach Tara VanDerveer and her players have not shied away this offseason from talking about playing for a national championship this season.
Those aspirations became more realistic when the freshmen arrived and their advanced skills meshed in well with the Cardinal on the court and their personalities fit in perfectly with the sisterhood.
This program has boasted outstanding chemistry really since Karlie Samuelson, Erica McCall and Briana Roberson captained them to a Final Four. VanDerveer brought in "The Program" this summer to make a strength even stronger.
"The Program" is an organization started by former military special forces members and former athletes to develop leadership and team building. Jerome was recognized for being a top performer by the group and the entire team was praised for how it handled the challenges given to them.
Is there a better sign of a healthy program than one that not only addresses its weaknesses but also improves what it's already good at?

The exhibition Saturday clearly left the players and coaches excited about what they have now and what they can build. VanDerveer was as ecstatic as she lets herself be in postgame press conferences talking about how well Stanford competed. Williams and Carrington had no doubt that everyone on the team was boosted by the experience.
Stanford has an opportunity this season to combine talent, discipline and the chemistry of a sisterhood to put an elite team on the court.