New and returning talent combining forces to go after big dreams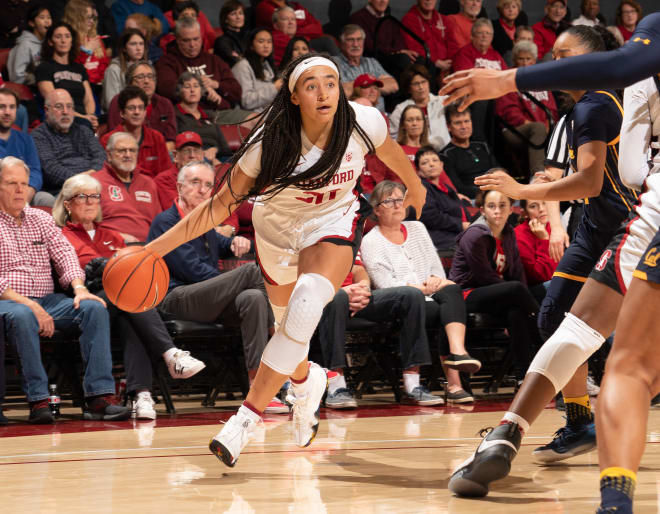 Stanford is in the top one percent of talent on a roster in women's basketball. Head coach Tara VanDerveer and associate head coach Kate Paye are unabashedly excited about the wealth of playmaking ability they've accumulated over the past four years.
There are many reasons for fans to be excited about the nine Cardinal back from last season who are expected to play. (Jenna Brown is out for the season after a surgery on an undisclosed injury and Maya Dodson opted out.) Led by senior point guard Kiana Williams it's a skilled and versatile group.
Depth will be more important this season than for a typical season because COVID-19 is almost guaranteed to affect the team. The evidence is widespread in college football that it is unreasonable to expect that no one will miss playing time because of the virus. Which is why the addition of three talented freshmen to an already loaded roster is noteworthy.
Center/forward Cameron Brink, wing Agnes Emma-Nnopu and point guard Jana Van Gytenbeek could all play a meaningful role this season.
There's no hiding that the 6-4 Brink faces high expectations as a former top-five overall recruit who can make plays all over the court. Van Gytenbeek is a "true point guard", according to Paye, and she has the ability to do everything that VanDerveer demands from that position — which is a lot.
Emma-Nnopu can make an impact right away as a high-energy defender and rebounder from the wing.
"The freshmen are catching on really, really quickly," Paye said in a recent phone call with Cardinal Sports Report. "They studied really hard and the upperclassmen have really helped them."
It's standard practice for an upperclassmen to partner up with a freshman to tutor them, but that extra lesson time is more valuable now. The team had to do a lot of learning via Zoom before getting on the court a couple weeks ago.
"What made it easy to transition from Zoom calls to the court was the seniors," Emma-Nnopu said. "We'd meet up after a Zoom meeting and we'd run through what we had gone through in the meeting."
VanDerveer and Paye have especially been impressed by how well Emma-Nnopu has done since coming over from Australia after everyone else was already on campus. She describes herself as a "rebounding guard" and VanDerveer loves any player who includes "rebounding" in their title.
No matter how well prepared mentally a freshman is for college basketball it can be overwhelming to jump into the fast-moving rapids of a Cardinal practice compared to the relatively easygoing, floating pace of high school practices.
"The biggest difference is you can't take any plays off," Brink said, echoing every generation of freshmen before her. "You're expected to go 100 percent all the time. In high school I could lollygag. Here you're expected to always do your best and it's refreshing. I'm so grateful to be coached by our staff."
Van Gytenbeek added her support of that take: "The intensity has gone up a whole new level for me — whether that's lifting, doing conditioning, or just the three-hour practices. That was a big transition for me, but I also was expecting that so I tried to be as prepared as possible. The coaches do a really good job of encouraging us and our teammates do the same thing."
The off-the-court chemistry of the sisterhood among the players eases some of the physical strain for the freshmen. All three newcomers told Cardinal Sports Report that the older players are genuine about their desire to lift them up, even when they're competing for playing time at the same position.
"You can tell they want everyone on board and on the same page. We never cut corners," Brink said.
Brink has reunited with former Cal Stars and U17 teammate Haley Jones and is in awe of the significant strides Jones has taken on her way to being arguably the best overall player on the team. Jones suffered a season-ending injury at Oregon State in January and played in only 18 of the team's 33 games last season.
She has been full-go on the court since late June and her excitement about playing again jumps through a Zoom call like a golden retriever let loose at a lake.
"We're all really excited to be out there together, especially with the freshmen," she said. "They're doing great. They're coming in with lots of energy, and they're excited to learn, and to play with us.
"We made a point to include the freshmen because they didn't get the summer experience we got last year. In the summer there isn't as much practice so a lot of time is hanging out with the team."
COVID-19 restrictions made it more difficult for the players to literally come together this summer. Jones recalled seeing Alyssa Jerome moving in with the help of her parents and Jones wanted to rush over to get the Canadian senior a hug. She had to stop herself and wait to see her teammate at practice.
"We put a lot of heart into practice and into the times that we can see each other," Van Gytenbeek said. "Those times keep us going. We know we have each other and that keeps it going."
That togetherness, as much as the ability to make shots, play defense and rebound, will drive the Cardinal's success this year. Stanford will likely begin the season ranked No. 2 in the country behind the mighty favorite, South Carolina. The freshmen have known from the jump that the Cardinal believe they have what it takes to play in the final game of the season.
"I see an environment of incredibly strong people always around me," Van Gytenbeek said. "Everyone has mental toughness, grit, and we all have goals. I think we can achieve whatever we want to and we'll dedicate all of ourselves to reaching those goals."