Powell adds Stanford offer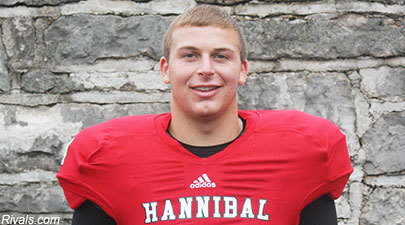 Stanford's lengthy recruitment of 2016 Missouri offensive lineman Dylan Powell took a major turn on Thursday when the Cardinal extended the three-star prospect a scholarship offer. Powell also received word that he had been admitted to the school.
Powell had long been on the Cardinal's recruiting radar. Stanford started recruiting back last spring, and the two sides have been in touch ever since, even after Powell committed to Purdue in late June. (He has since opened up his recruitment.)
The Cardinal's pursuit only increased into the winter, and it really came into focus this past weekend.
"I talked to them this weekend," Powell said. "They've done a great job of staying in touch with me since really last year. We tried to work something out this summer for me to be able to get up there but I never could make it. They've stayed in touch with me and done a great job. They told me this weekend that admissions was actually looking at my (application) and that if I got accepted into the school that I would get an offer. And I guess they learned today that I was accepted into the school and they offered me."
"It's definitely a blessing. The type of institution Stanford is, it's really impressive. It's one of the best schools in the United States and really in the world. To have an opportunity to possibly go there is huge for me."
Earning admission into Stanford was also a rewarding development for Powell.
"The feeling was great," he said. "Just to know that the hard work that I've put in over all of my life has paid off. The appliction was very difficult. It as actually hand-written, and that was the first time I had to do an application that was hand written. And there were several essays that I had to write and questions that I had to answer. It was a long process that I had to go through but I was excited to see that it paid off for me."
Powell chatted with several Stanford coaches after receiving the offer.
"(They were) really just congratulating me that I got in and recognizing all the hard work I've put in to being in this situation to where I could be accepted into a great university like that," Powell said. "That and trying to set something up for a visit. And we're definitely going to get that done."
Powell will take his official visit to Stanford on Jan. 30-31st. The trip will be his first to The Farm.
"I'd just say I'm looking to see if I feel comfortable there and if I can see myself being successful there," he said. "Just with the distance away from home, see how I'd be able to be successful there and get an all-around feel for the campus and campus life."
Powell is currently considering Stanford, Virginia Tech and Iowa State. He visited the Cyclones last weekend and will see the Hokies this weekend.
He plans to make his college choice the Monday following his trip to The Farm.
"I think it's going to come down to where I believe I can go and be the most successful, not only on the field but most importantly academically and where I believe I can set myself up for the rest of my life, really, to be successful."
Stanford assistant coach Morgan Turner made an in-home visit with Powell on Tuesday. He also expects the Cardinal to check in on him next week.
In the 10 or so days between now and his college decision, Powell hopes to continue to gather information about the specifics of Stanford's academic offerings in addition to determining whether he would able to achieve a desirable comfort level in Palo Alto.
"I think the thing that I'm most interested in is just to find out the academics, what they have," he said. "I'm excited to go out on the visit and get the opportunity to meet with some professors out there and get around the players to just find an overall comfort level for being out there and just see how they deal with balancing not only the great football program, but it's one of the most prestigious academic institutions in the world."