Swann set for announcement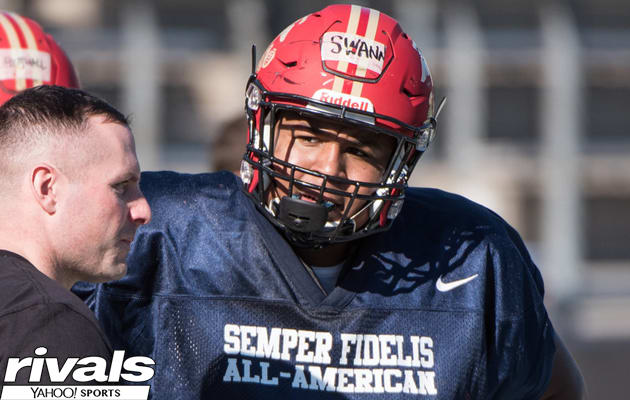 One of Stanford's top 2016 recruiting targets is hours away from announcing his college decision. Three-star Indiana defensive lineman Jovan Swann will reveal his commitment at 4 p.m. Eastern Time on Tuesday, most likely via Twitter.
Swann, who officially visited Stanford for the Cardinal's win over Arizona during the fall, is down to Stanford, Indiana and Northwestern.
He broke down his finalists.
"Those three schools, they have kept me with me this whole process," Swann said. "And I believe it's time to come to a decision."
"Northwestern, I appreciate them for the best of both worlds, on and off the field. They're a Big 10 powerhouse, doing work. They made it to a bowl game this year. What I like about them is how personable the coaches are there and what they can provide for me academically."
"With Stanford it's the same. California, it's far from home but they provide a great academic opportunity for me. And they finished top 10 in the nation, doing work in the Pac-12."
"With Indiana University, it's close to home. Why they're a finalist for me is because of the connection I've built with the coaching staff there, because they're a great (staff), (I'm) feeling good about if I were to be a player there."
Ultimately, Swann will choose the program that best suits him.
"What's the best fit for me," Swann said. "That's the deciding factor and that's how this process has been so labored for me. But just picking the best fit for me all around. I've thought about it and prayed about it each and every night. Thank God it's a clear path for me and it's made the decision clear."