VanDerveer excited to have the Cardinal back on the court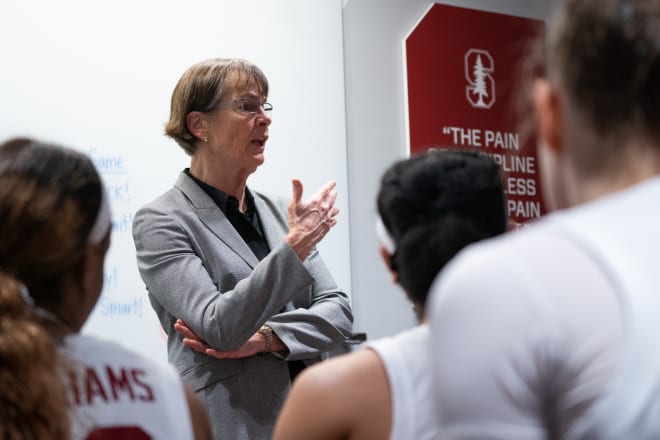 Seven months to the day since the Cardinal were last in the gym, Tara VanDerveer led the coaches and players through practice Thursday. Stanford is predicted by ESPN to begin this season ranked No. 2 in the country, but like everyone else right now the Cardinal have a lot of work to do before the first tip off.
For most of the past seven months the team has been scattered with only occasional trips by teammates to visit each other. More than ever before the onus was on the players to take control of their development while first and foremost remaining healthy.
"I think a lot of people used that time to improve," she said. "They've taken advantage of whatever facilities they've had — an outdoor basket, a court, running outside or getting into a gym. I'm very optimistic; I'm very excited about working with this group and I feel like we're going to have a great year. We just have to stay healthy."
Stanford is allowed 30 practices before the season begins. The Pac-12 has decided to use a full round robin format in part to make up for the shortened non-conference schedule. But VanDerveer isn't looking as far ahead as the first game or what it will be like to compete against people while also doing their part to combat COVID-19.
For her, and the team, it's simpler to focus on what she described as a successful first day of practice and now onto the next. Players and coaches are being tested daily and are required to lift up their mask to cover their face when talking with a coach or teammate.
It's inevitable that COVID-19 will impact the season somehow. The players and coaches will do their part to try to avoid the worst-case scenario. While the Cardinal will take every precaution against the pandemic, they are also very well equipped to handle the normal bumps, bruises and breaks.
Despite the graduate transfers of DiJonai Carrington (Baylor) and Estella Moschkau (Wisconsin), the decision by Maya Dodson to opt out of the season, and the loss of Jenna Brown to a season-ending surgery, the Cardinal roster can be described with one word: deep.
"We're going to be able to play a lot of people," VanDerveer. "I'm very excited about our freshmen. They're doing great. The sophomores have improved a lot. We enjoy being in the gym and we're trying to make the most of it."
Stanford's sophomore class came to campus as one of the most highly touted groups in recent memory. The former No. 2 ranked class in the country is led by former No. 1 overall recruit Haley Jones — herer outstanding freshman season was cut short by a knee injury at Oregon State, but she is full go in practice.
Jones, Ashten Prechtel, Fran Belibi and Hannah Jump are "really dedicated, talented basketball players", VanDerveer said.
Jones was third on the team with 11.4 points per game and was getting on-the-job training as a point guard behind now senior Kiana Williams.
Williams is the heart of the team and her infectious positivity and love for the game earned her the nickname "Skippy" years ago. She led the team in scoring (15 ppg), assists (3.8), three-pointers (67) and free throw percentage (84) while averaging the most minutes on the court (34).
Much of the Cardinal's depth are talented underclassmen, but Williams, senior forward Alyssa Jerome and the Hulls twins — juniors Lexie and Lacie — provide steady, invaluable leadership for the freshmen: forward Cameron Brink, point guard Jana Van Gytenbeek and Australian wing Agnes Emma-Nnopu — who arrived to campus after everyone else because COVID-19 travel restrictions.
"Our freshmen are doing phenomenally well and a lot of that is due to the help that they get from the upperclassmen," VanDerveer said. "We're putting things in quickly to teach our offense and defense. The freshmen each have an upperclassman tutor. They're doing great.
"It was really impressive yesterday to watch Agnes go through things. It was amazing. I was impressed. They're all doing really, really well."